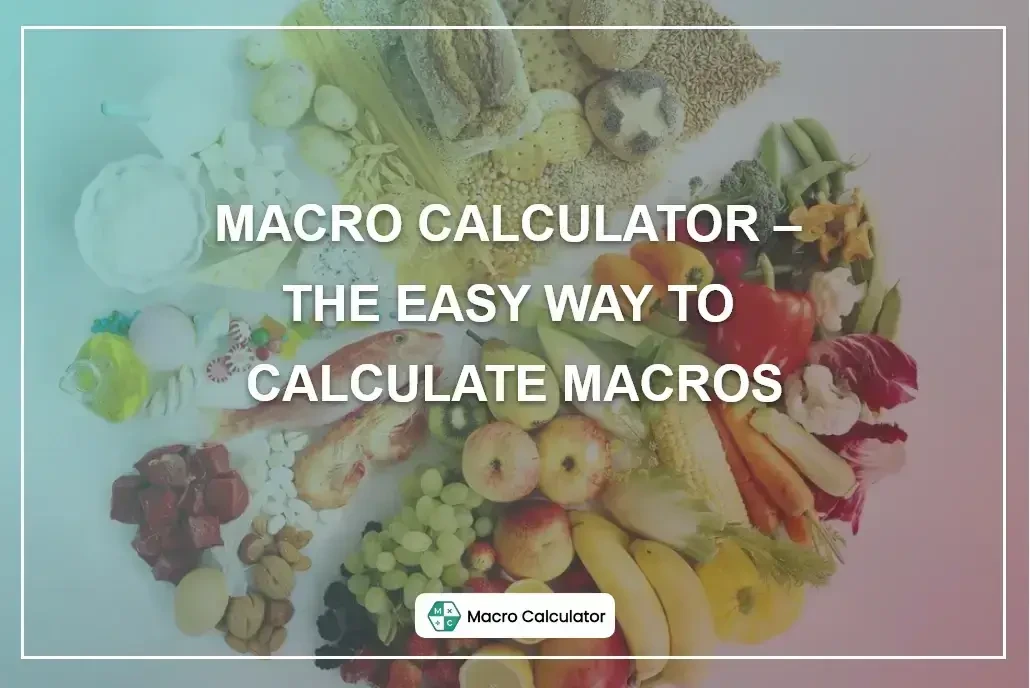 July 02, 2021
Macro Calculator – The Easy Way to Calculate Macros
Macronutrients or macros are one of the most important nutrients that your body needs in order to survive and grow. Fats, carbs, and protein are the most common macros that we get throughout our diet.
The need for macros is different for different people. The ratios are already quite diverse, but things can get even trickier for you if you have a specific health goal in mind.
For example, if you want to lose weight, your diet should consist of less fat, more protein, and moderate carbs.
But keeping track of the macros requirements manually can be quite difficult. Plus, you cannot be completely sure that you are accurate in figuring out your Macros needs.
This is where the Macro Calculator comes in!
The Macro Calculator is an excellent tool that will help you know the exact ratios of macros that you need to add to your diet.
Let's talk about the need for Macro Calculator and the features and benefits that it has to offer.
What is Macro Calculator?
Macro Calculator is an easy-to-use tool that helps you figure out the number of macros you need to eat on a daily basis to reach your goals.
The Macro Calculator is a great tool for creating a healthy diet plan without leaving out the foods that you like to eat. For example, once you have calculated the number of macros you need to achieve your goals, you can get the meals of your choice as long as they help you meet your requirements.
The flexible diet approach offered by this tool is one of the reasons why the Macro Calculator is a great choice for health-conscious people.
The Need for Macro Calculator
Macro Calculator takes the guesswork out of your macro calculation. You don't have to rely on any kind of hunch about your Macros intake.
This tool takes into account important factors like your health goals, your age, and height to create a flexible diet plan for you that includes all the macros you need to meet your goals.
This tool is based on the famous IIFYM strategy which stands for "If It Fits Your Macros". It helps you come up with an effective diet plan catering to your specific needs.
The food that you eat has a massive impact on your energy levels and overall health. Becoming conscious of your heisting habits and adjusting them to meet your health goals is the only way you can maintain your health.
This is exactly what the Macro Calculator helps you with. It helps you develop a healthy diet plan that you can follow without sacrificing your desire for the foods that you enjoy.
How to Use the Macro Calculator?
The Macro calculator is easy to use. You just need to add in the details asked by this tool, and it will calculate the exact number of macros that you need to it on a daily basis
It gives you a complete breakdown of the macros you need to eat in terms of carbs, proteins, and fat.
Here is how you can use the Macro Calculator
Select your Gender
Enter your Age
Choose your Health Goal
Enter your percentage of body fat (optional)
Enter your Height
Enter your Weight
Enter the meals you eat per day
Select your Activity Level
Select the amount of protein in your diet
Click on Calculate
This is all that you need to it. The Macro Calculator will use its AI features to come with an effective diet plan that you can follow to achieve the health goals you have selected using this tool.
Once you have followed the recommended diet plan for a couple of weeks, come back to this tool again to calculate your latest Macros needs based on your health state at that time.
Benefits of the Macro Calculator
· Achieve Health Goals
The biggest reason why most people fail to achieve their health goals is that they are not clear how to go about it.
They don't know their exact goals and even if they have an idea about them, they don't have an effective plan that they can follow.
The Macro Calculator eliminates all the uncertainties for you in terms of achieving your health goals. You can use this tool to create a complete diet plan for yourself that helps you meet your health goals.
With the Macro Calculator, you get an exact idea about the diet plan you need to follow to lose weight or gain muscle.
· Create a Diet Plan That Suits You
The Macro Calculator tells you the number of macros you need for your goals. With the insights of the tool in mind, you can choose a diet that works the best for you.
The biggest benefit of this tool is it doesn't ask you to be overly conscious about your eating habits. Although it promotes healthy eating habits, you can still eat your favorite foods unless they fit your macros.
The diet plan that the Macro Calculator will be as per your specific health goals. You can come back to the calculator again if things start changing for you.
· Develop Healthy Eating Habits
The ultimate goal of the Macro Calculator is to get you to choose a healthy diet plan. The information that this tool gives you will inspire you to make better food choices and adopt a healthy eating routine.
Macro Calculator gives you accurate macro ratios that you need to maintain your health. This tool stands out in that it offers you an easy way to create a diet plan for yourself.
Wrapping Up
Calculating Macros shouldn't have to be a hassle. It should be simple and easy so that anyone may be able to come up with their macro intake plan.
Macro Calculator is designed to offer you an easy and interactive way of managing your diet. You can create a flexible diet plan for yourself with the macros information you get via this tool.
So, check out the Macro Calculator to find the right number of macros you need to gain muscle, lose fat, and develop a healthy diet routine.